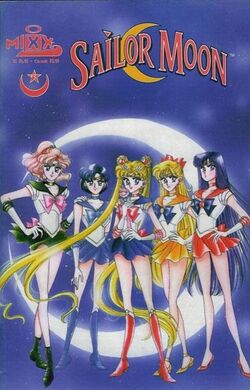 Sailor Moon, (Pretty Soldier Sailormoon[1][2][3] or Pretty Guardian Sailor Moon[4] (美少女戦士セーラームーン, Bishōjo Senshi Sērāmūn?), is the original manga written and illustrated by Naoko Takeuchi.
Publication History
The manga publisher Mixx (later Tokyopop) translated the Sailor Moon manga into English in 1997. The manga initially appeared as a serial in MixxZine but was later pulled out of that magazine and made into a separate monthly comic to finish the first through third arcs. At the same time, the fourth and fifth arcs began printing in a secondary magazine called [Wikipedia:[Smile (magazine)|Smile]].[5] The series was later reprinted into three parts—Sailor Moon, Sailor Moon SuperS, and Sailor Moon: StarS—spanning eighteen volumes which were published from December 1, 1998, to September 18, 2001.[6][7][8][9]
Tokyopop's translation officially went out of print on May 2, 2005, after the license expired,[10][11] but was later revived by Kodansha Comics USA in association with Random House. Kodansha Comics USA published the main series in twelve volumes simultaneously with the two-volume edition of Codename Sailor V, from September 2011 to July 2013.[12][13][14] The first volume of the two related short stories was published on September 10, 2013,[15] with the other published on November 26.[16]
References
Ad blocker interference detected!
Wikia is a free-to-use site that makes money from advertising. We have a modified experience for viewers using ad blockers

Wikia is not accessible if you've made further modifications. Remove the custom ad blocker rule(s) and the page will load as expected.